Web Management Services Team (2001)
Working in Web Management Services has been an experience unto itself.
Despite my quiet nature, I would consider myself a team player, always willing to contribute and help out wherever possible. I have had the good fortune of working with many fun and friendly peers in Web Management Services, and in the many other groups within EQ that we deal with.
Unbeatable team
The Education Queensland Central Office Challenge, Education Week 2001, was all about team work. Web Management Services took out the challenge, winning glory, fame, a trophy and no small share of embarrassment - as the photo below indicates. nb. the ball dress costumes were NOT my idea!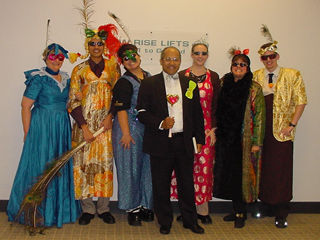 Web Management is a broad area, with staff from diverse backgrounds; technical, managerial, client services, etc. It is great to learn from different people, and pass on the technical knowledge that I have. Best of all it is nice to go to work with a smile knowing you'll spend the day in such great company.
Cheers guys!
Contributions recognised
I received this dubious award from my manager recognising my contributions to team work in both the costumed capers above, and poetic description of my role in an Information Management Branch forum.
Bucolic in Brown Ball Dress Award
or as it is more commonly known
DG's Award for excellence in Web Architecture and Cross-Dressing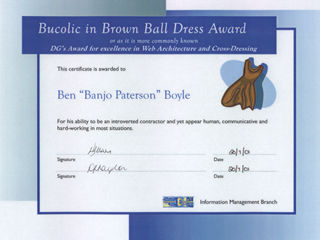 This certificate is awarded to Ben "Banjo Paterson" Boyle. For his ability to be an introverted contractor and yet appear human, communicative and hard-working in most situations.
Photos


Copyright Ben Boyle 2003.